Curriculum Guides
for Trailblazer Books
We are delighted that our good friend and fellow writer, Julia Pferdehirt, helped by writing these Curriculum Guides for several of our Trailblazer Books. Julia is a skilled educator and former homeschooling mom herself, who has an excellent grasp of the kinds of studies that engage students.
As a teacher or homeschooling parent, you're glad when you see your students with their noses in books. But a good story is only the beginning of a learning adventure. Since the Trailblazer Books take readers all over the world into different cultures and time periods, each book opens a door to an exciting, humanities-based study that includes geography, history, social studies, literature, and language arts.
These Curriculum Guides put a host of activities and resources at your fingertips to help launch your students on a journey of discovery. The wealth of options allows you to choose the best pace and content for your students. You might want to assign students to simply read the book and then do one or two projects on folklore or food, travel or topography. Or you can delve deeper, planning a two-week unit with daily reading and vocabulary, research, creative writing, and hands-on projects. Of course, as with all good teaching, advance planning is key to effective use of the guides.
SCOPE AND SEQUENCE

Each guide includes seven lessons, enough for a two-week unit. The first and last lessons cover one chapter and provide historical background; all other lessons cover two chapters. All lessons include vocabulary, background information, discussion questions, and suggested activities. Activities are grouped by subject matter in the back of this guide: Geography, History, Social Studies and Folkways, and Literature and Language Arts. Within each subject, you will find icons (symbols) indicating different types of activities (writing, research, speech, reading, hands-on projects, video). Activities and resources particularly appropriate for younger or older students are distinguished so you can target your child's learning level. A three- to five-day Mega Project is also included. All activities list resources and materials needed.
PLANNING

Four to six weeks prior to the study . . .
Skim your selected Trailblazer Book, review lessons in the Curriculum Guide, and choose activities, noting materials needed.
Reserve any materials you will need through interlibrary loan and order films from specialty sources. (Titles and authors are listed in the Activities sections; full publication information is available under Resources at the back of the guide.)
Purchase craft materials.

If you are planning a two-week unit . . .
Students will cover one lesson daily for seven days.
Choose one or more short, focused activities from the back of the guide to accompany each lesson. Activities especially appropriate to the chapter(s) covered are noted on each lesson page.
The remaining days can be devoted to the Mega Project fully outlined in the guide.
Note: It is possible to choose activities based on the age level, interests, and learning needs of your student(s). You might choose one activity from each discipline during the unit, or you might opt to balance the different types of activities.
LESSONS
Assign relevant chapters in your selected Trailblazer Book the day before the lesson, to be read either individually or out loud.
Praise and Prayer, In addition to collaborating with Julia Pferdehirt on these guides, we (Dave and Neta) wrote a daily devotional to accompany each lesson so kids can spend a short time in God's Word and apply scriptural concepts to their own lives.
Read aloud the Background segment, then discuss Vocabulary and Concepts. (Or ask students to use context clues and a dictionary to define unfamiliar words as they read, leaving puzzling words or concepts to discuss the following day.)
Give students an opportunity to discuss thoughts and reactions to their reading using the questions in the Talk About It feature. Discussion, debate, and interaction can be lively. Enjoy!
Use the suggested Activities, or one of your own choosing.
We hope you will find these Curriculum Guides as helpful as the Trailblazer Books are popular.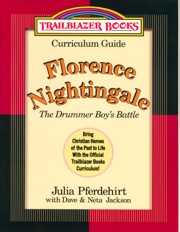 Available only from
Dave & Neta Jackson
Amy Carmichael
The Hidden Jewel
ISBN 0-7642-2345-3
David Livingstone
Escape from the Slave Traders
ISBN 0-7642-2346-1
Florence Nightingale
The Drummer Boy's Battle
ISBN 0-7642-2539-1
George Müller
The Bandit of Ashley Downs
ISBN 0-7642-2537-5
Harriet Tubman
Listen for the Whippoorwill
ISBN 0-7642-2536-1
Hudson Taylor
Shanghaied to China
ISBN 0-7642-2344-5
Martin Luther
Spy for the Night Riders
ISBN 0-7642-2347-X
Nate Saint
The Fate of the Yellow Woodbee
ISBN 0-7642-2538-3
---
Other curriculum guides featuring the
Trailblazer Books
Christian Novel Studies
by Chris Roe