Dave and Neta Jackson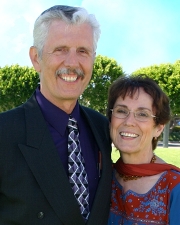 As a husband/wife writing team, Dave and Neta Jackson are enthusiastic about books, kids, walking with God, gospel music, and each other! Together they are the authors or coauthors of about 100 books (they lost count). In addition to writing the TRAILBLAZER series and the HERO TALES, the Jacksons have coauthored numerous books with expert resource people on a variety of topics from racial reconciliation to medical ethics to ministry to kids in gangs. (To see some of the books they have written for older readers, click here to visit their other Web site: www.daveneta.com.)
But the Jacksons especially enjoy writing for children and young people! Their most recent projects include the award-winning TRAILBLAZER series, historical fiction about great Christian heroes and heroines for young people ages 8-12, and the four-volume HERO TALES: A Family Treasury of True Stories from the Lives of Great Christians.
Somewhere along the way, the Jackson children grew up! Son Julian is Director of Experience Design for the Alder Planetarium in Chicago where he "provides the experience of exploring space" for visitors. He has two sons, Liam Isaac and Elijah David. Daughter Rachel graduated from Eastern Mennonite University and after working in the field of rape-crisis prevention went on to earn a Masters Degree in counseling from the University of Illinois. She is now a counselor at "Uni High School" in Champaign, Illinois. She is the loving mother of Havah Noelle (Dave and Neta's first grandchild!) and Noah Zion, their youngest grandchild. The Jackson family also includes a Cambodian foster daughter, Samen Sang, who has four children.
Dave and Neta live in Evanston, Illinois, where for twenty-seven years they were part of Reba Place Church, a Christian church community. They are now members of a multi-racial congregation in the Chicago area.
.
Dave says . . .
"I was born July 16, 1944 in Glendale, California, but when I was six years old, my parents became home missionaries to small logging and ranching towns in northern Idaho and California. Guess that's why I've always loved the mountains.
"We moved often because my dad's special ministry was starting new churches. After a few years, when the new church was established, the mission board would send us to a new town. It was hard always being the new kid in a small school where everyone knew each other. And the preacher's kid, at that!
"When I was in seventh grade we moved to central California where my father worked at an airport and learned to fly and repair planes. He hoped to become a missionary pilot, but that never happened. That's where we lived until I went away to college at Multnomah School of the Bible in Portland, Oregon. There I met a girl named Neta Thiessen . . ."
Neta:
"That's me! My birthday is October 26, 1944, and I was born in Winchester, Kentucky. My father was a Christian school principal. Family moves took us to Boston; Longview, Texas; and finally Seattle where my father became the principal of King's Garden Christian Schools. My mom was the high school librarian. (Guess that makes me a "PK" too—the principal's kid.)
"As a kid, I always had my nose in a book—when I wasn't drawing horses, that is. I also had an active imagination (just ask my family about my imaginary pets!). However, in my senior year in high school, I wrote a story about a mountain lion that won a First Place Award from Scholastic Magazine. With the reward money, I bought a typewriter—and the rest, as they say, is history.
"I had always planned to go to Wheaton College in Wheaton, Illinois, but decided to take my first year closer to home at Multnomah School of the Bible in Portland, Oregon . . ."
Dave:
"Lucky for me she did! Not only did I meet the girl I wanted to marry, but Neta was the first person I'd ever met who wanted to be a writer.
"As a kid, I was a slow reader and a poor speller, but I loved good stories. But because I was a slow reader, I didn't want to waste my time reading something I didn't like. So when I found an author I liked, I read everything he or she wrote. But I never imagined that I could become a writer. Writers seemed like people from another planet! I considered becoming a chemistry teacher because I was good at math and science. However, at Multnomah, I became the editor of the student newspaper and discovered I really enjoyed writing and editing. Eventually I got my degree in journalism from Judson College in Illinois and did some graduate work at Wheaton College.
"Meanwhile, after Neta's first year at Multnomah, she transferred to Wheaton College, which had been her plan all along. This decision was very hard for both of us, but we trusted God that if we were meant for each other, He would help us maintain our relationship across 2,000 miles. (Actually, it was good writing practice since we wrote two or three letters every week!) We've been married now for over thirty years—and our relationship gets better every year.
"Both of us worked for Christian publishing companies for many years and wrote several books and articles while we were raising our family. Then in 1986 we realized our dream of going into business for ourselves as a full-time writing team . . ."
Neta:
"Yep. We work together all day every day—and still like each other! Actually, we each have different strengths, and help each other become better writers. When one of us needs to brainstorm, we go on a long walk, and when we come back, we usually have figured out a solution to the writing problem."
Dave:
"One thing about being a writer, your mind never seems to take a vacation! Even when we go camping, we're often working on a writing idea. Even though we don't take many vacations, we try to work some fun into our everyday life."
Neta:
"Every morning before work, you can find Dave puttering around in his vegetable garden, while I try to keep up with all my plants and flowers—indoors and out. Besides digging in the dirt, our hobbies include bowhunting (Dave) and keeping family history (Neta). When we have any 'spare' time, we enjoy biking, camping, and canoeing. (When we take the canoe out, Dave always takes his fishing pole, and I take a book!) We're also discovering how much fun it is to be grandparents!
Dave:
"In recent years God has called us to be more serious about evangelism and racial reconciliation, both in our worship life and as an everyday lifestyle. It is both challenging and exciting. We are grateful for the many new brothers and sisters in Christ God is giving us across racial and ethnic lines and the new things God is teaching us through them. Guess we're never too old to learn!"
Neta:
"The TRAILBLAZER books about great Christian heroes have been our most enjoyable work. Bethany House has published the series, which will be compete at 40 books! So far the TRAILBLAZERS have sold 1.4 million copies and won several awards. But our biggest joy is introducing young people to great Christian men and women from all walks of life, whose lives and faith impacted their world."
Writing awards include:
2002 Award of Excellence, Second Place Book Category, for Hero Tales, Vols. 1-4 (series) by Education Clearinghouse Product Review Awards.
1997 Angel Award of Merit for Hero Tales, Vol. I by Excellence in Media.
1995 C.S. Lewis Award, Best Series for the TRAILBLAZER series by Christian School Children/Youth Book Awards, Wheaton, Illinois.
1995 Best Children's Book of the Year for the TRAILBLAZER series by CBA New Zealand.
1995 Silver Angel Award for Attack in the Rye Grass (a TRAILBLAZER book) by Excellence in Media.
1994 Silver Angel Award for Listen for the Whippoorwill (a TRAILBLAZER book) by Excellence in Media.
1994 Gold Medallion Award by ECPA for Breaking Down Walls: A Model for Reconciliation in an Age of Racial Strife, coauthored with Raleigh Washington and Glen Kehrein.