Why Trailblazers?
They're "fun." Even reluctant boys start reading.


They build Christian character.


They show God using both men and women.


They've inspired service and modern missionaries.


They break down racial prejudice.


They make church history memorable.


They teach world geography and cultures.


8 FREE Curriculum Guides, a $56 value.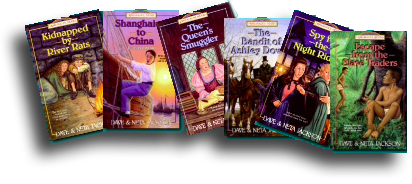 The award-winning TRAILBLAZERS are action-packed historical fiction novels introducing great Christian heroes. Each page-turning book portrays a significant period in a hero or heroine's life and ministry as seen through the eyes of a young protagonist. A page in the front of each book explains exactly what is fiction and which events and characters are historical, and a "More About" chapter at the end provides a brief biographical overview of the hero's life. We want kids to learn about pioneer missionaries and other important Christians . . . and have fun doing it.
Click on the "Bookshelf" below, scroll to the right for more titles, then click on the covers to review any of the 40 books.
— Dave & Neta Jackson
Four Options
Individual Books
Paper $7.99
eBooks $2.99
Complete 40-book Sets
40 Paper $239.70
(a 25% discount)
40 eBooks $39.60
(a 65% discount, 99¢/title)
Homeschoolers
To build lesson plans,
click on
"Books by Category"
(below)